hint fiction (n):

A story of 25 words or fewer that suggests a larger, more
complex story.
Rather than re-invent the wheel, I'll take you to the source of a writing style that had come to my attention through book browsing. I sample read a few pages, and bought and brought the diminutive book home to my library. While digesting
Robert Swartwood
's take on this short fiction type
(I knew of flash fiction, sudden fiction, postcard fiction), I made marginal notes, and attempted a few writes. It didn't come as easily as I thought it would, because "each story had to something special." In the book's Introduction, he adds "that a story of twenty-five words or fewer can have as much impact as a story of twenty-five hundred words or longer."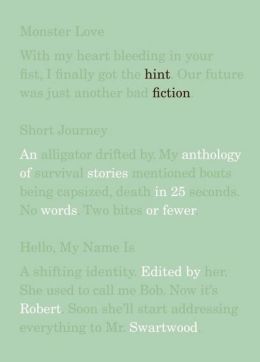 In an essay,
Hint Fiction
: When Flash Fiction Becomes Just Too Flashy that he
submitted to the blog Flash Fiction Chronicles,
(

http://www.everydayfiction.com/flashfictionblog

/

) Swartwood
"proposed
that the very best storytelling was the kind where the writer and reader meet halfway, the writer only painting fifty percent of the picture and forcing the reader to fill in the rest. That way, the reader truly becomes engaged in the process."
What an intriguing concept!
Here are a few samples:
Tara Deal "Engagement"
The dry cleaner offers me a discount on the wedding dress that's
been hanging in his window for six months.
William J. Brazill "Art Alone Endures"
The Art League had a competition for artists to depict the future. By accident Bogdan
included a blank canvas among his submissions. It won.
Ken Bruen "Noir Surprise"
He took her by surprise and she, she took him for all he was worth.
Check out
How To Create Hint Fiction
for writing tips on this short fiction style.
I hope I've intrigued you to take on the challenge, and the chance to enter hint fiction writing contests.
Let me know how you fare.